Good morning Lions I trust you are safe and well and enjoying the week as it is almost coming to an end and with it our experiment also too comes to a bit of a fizzling end. Don't worry we are still going a head with the meme token just a few things I was working on behind the scenes are most likely not going to occur because Crypto is still too young and many people aren't up to the level I needed them to be at.
But lets take a quick look at what that was and announce when our launch will actually occur.
Business Loans: Not Eligible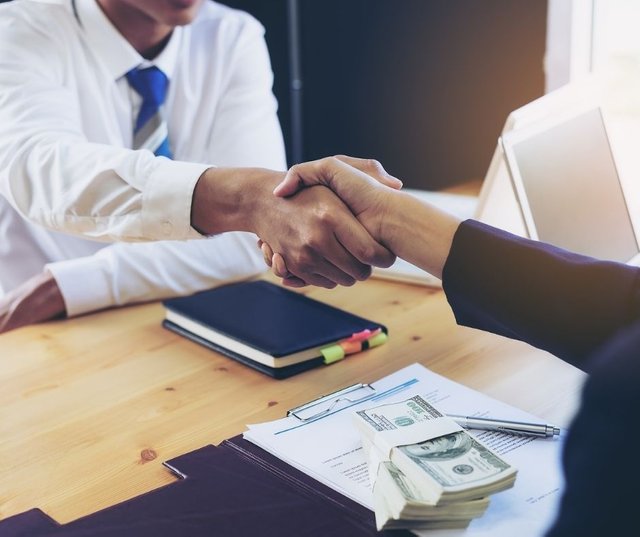 Image source canva pro subscription
One thing I was working on behind the scenes was seeking alternative forms of funding to progress a few things in the company such as hiring developers, paying for a website rebuild and moving things along quicker. Unfortunately I have spoken to a number of banks and loaners over the past few weeks with the last one today and they all said the same thing "Crypto currency is a new sector and we are not currently providing loans to businesses in this field"
Apparently the sector is still quite volatile and even though I have established a company the risk is to great to be funding the business venture. Also the fact that I am launching a meme. There isn't really anything more to this than being a meme on a block chain which poses an even greater risk for banks. If I delved into financial services with a clear profit outline then they would consider something but as we are launching a meme it is too risky. (There is good news in that also, stay with me)
Government Start up Grants: Not Eligible

Image source Canva Pro Subscription
Another avenue I was following up on was seeking start up capital grants as Victorian and Commonwealth Governments often provide seed funding to new industries and block chain technology has has a few come up. After a few conversations with Government agencies that are supportive of investing in Block Chain start up grants it turns out a meme coin is not something they will invest in. Let's be honest here, I didn't think anyone would be wasting tax payer money on a meme even if it is epically awesome!
I did find a few other current grant openings for some work in this space that I want to throw my hat in the ring for (unrelated to SKIPPIE) and now that I have wasted cash registering a company I'll give some of the innovation grants a crack as there are a few that I'll be able to undertake with the knowledge I have learned developing, building and creating SKIPPIE.
Good news from AUSTRAC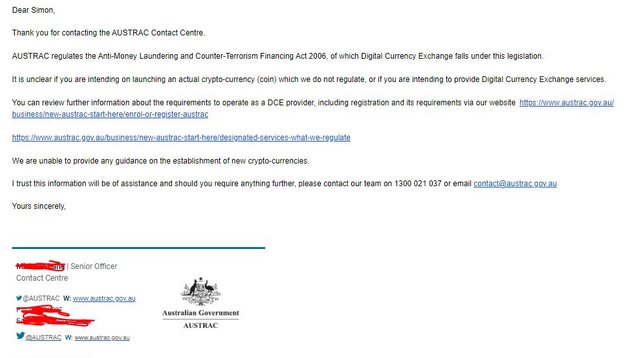 I did get some relatively decent news from AUSTRAC the mob that investigate and enforce anti money laundering and terrorism financial regulations. In summary Meme tokens are not their thing and if I was creating a Digital Currency Exchange there would be a heap of things I would need to do but for a meme token…. Well, they're not all that interested.
Hop on board the Roo Express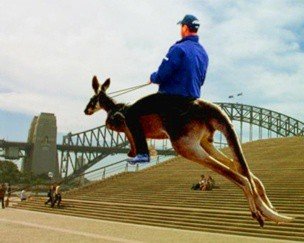 Image Source
Are we good to go? Well in all honesty the sector is relatively new and there is a skill shortage in relation to law, regulation, business development and all critical aspects required in the establishment of a successful business. But, with that in mind it is pretty safe to say that we can without (much) of a doubt launch and not get into trouble. It is clear from banking, business and "general legal advice" a Meme token is NOT a financial service, product or a managed investment scheme.
It is those three core things that particularly require a Financial Services License and have protections in place for investors. As a meme does not meet those requirements…. Turns out I could have saved a few thousand quid and just used an ABN and not go through company registrations. But, having a company now enables me to pick up some side work doing audits, contracts and other various things. Unfortunately I have a company named SKIP-PIE PTY LTD after the meme token 🙂 ah we'll work with it and see how we go.
Wen Launch?
Given all the work we have put into it and the time wasted not doing promotional work I will be launching some time on Saturday (Australian Eastern Standard Time) Some time after I get back from taking the little one to soccer practice.
It will be launching on Binance Chain with that cointool app with a soft cap of 10 BNB and a hard cap of 20 BNB. If we don't make the 10 BNB then they don't launch our token on pancake swap. Given this is a meme token I will leave the launch period open for 3 weeks to maximise attention and run some small media campaigns. I've come this far and invested a little bit so I would like to see the token get hopping. As is standard with cointool app if we don't make the cut peoples money is returned and then we will go back to the drawing board.
Do keep in mind that if we do launch I will be taking 30% of total raised to pay the ATO as the current business tax rate is 30% in Australia.
Worse case scenario is that cash raised goes to the ATO and we get a little bit of money to go to Bush Fire Recovery and then we wait and see how SKIPPIE performs. Either way it is a win win and I get to have gone through a learning process on how to create and launch a token on the block chain.
The total circulating supply of SKIPPIE is 400,000,000 unlike Shiba and the likes with 100s of trillions of memes it is a lot more workable and as such we will be commencing at $US00.03c around about depending on how the system calculates things.
If we don't make the 15 BNB required position it means we will go back to the drawing board and try other alternatives.
So SKIPPIE peeps, get ready to hop into action because we're about to go head to head for the worlds best meme token position!
So what do you think, will we meet our 15 BNB target and will you help by sharing the Meme token? Let me know in the comments section below.
Image sources provided. This is not financial advise and readers are advised to undertake their own research or seek professional financial services