We have lift off!: Good morning, I trust you are safe and well and getting ready for an awesome weekend a head! Great news on the skippie front we are officially live and selling!
I thought I would provide a quick overview on some of the problem solving measures we have had to implement as being a first project and relying on other programs to carry us through while meeting regulations can be a littler tricky especially of the systems are there yet to support what you need done.
The Launch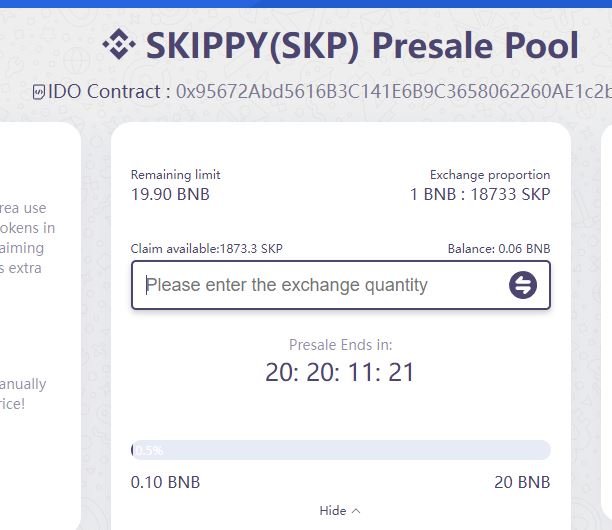 We are live and selling using cointool which has been a great help in learning how things operate and have a number of awesome features to get you through the launch however, a little pricy as it has already cost me a few BNB to get from creation to launch.
You'll notice that the website says presale however. this is not a presale this is a direct sale and if you buy in you instantly get skippy (SKP) token. The program doesn't allow you to have any other options and I have altered how it is used. Instead of having a heap of investors and then claiming at the end. I am using the system to auto sell the tokens and then once the target is met provide liquidity which is why you're able to purchase and instantly receive SKIPPY tokens.
Given this is a meme token I don't expect there to be too much excitement but you never know and for that I have set a sale period of 21 days which should give me enough time to run a small campaign and try to sell some tokens.
If you would like to do so you can connect your metamask BSC wallet and purchase SKIPPY here
The issue and the somewhat solution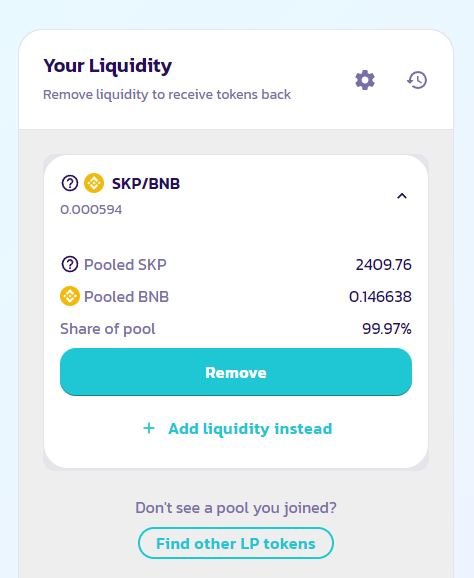 Using a presale site as a sales site means that everyone gets their tokens right away which in itself isn't a bad thing but it messes up the price setting as it would enable anyone to go and provide liquidity and the first LP pool is what sets the price.
To navigate this problem I set a small Liquidity Pool up to set the price of the token so once it system does it's thing and establishes a pool it won't ruin the LP and meme token and my store. There is also currently around 1.5 BNB worth available for people that wish to purchase through PancakeSwap which can be accessed HERE
Details

In Australia the company tax rate is 30% so I am accounting for that in the sales with 30% of sales coming to me to go straight to tax. A further 10% will be provided to me to continue developing the website and pay devs. 60% will be going to a locked liquidity pool to maintain trust and it seems to be the thing everyone is doing these days that helps support project growth.
Never used MetaMask or BNB before?
If you have never used metamask before or this is the first token you will be getting involved in I have written a straight forward how to guide here which has helped a lot of new people get online.
Keep in mind once you set it all up you will need to purchase BNB token from an exchange and send it to your Metamask wallet as a BEP20 token. That part is important please remember that when sending from an exchange to metamask it needs to be BEO20.
Once you have your metamask set up and your BEP20 BNB head over to the link above or I will readd it here and swap your BNB for Skippy. if you need help or want to pay cash let me know and I can try to figure something out.
It has been a great experience and learning curve which has helped me gain a larger knowledge base of how tokens work and what block chain technology is all about. Fingers crossed this works out well for everyone and I look forward to seeing Skippy hopping all over the world with you!
Visit the official Skippie website for more information HERE
Cautions
Please be aware that you are purchasing a meme token depicting an Australian icon set on iconic colours and indigenous art. This art is not intended to be a financial service and purchasers are advised against such activity. Furthermore, there is no expectation that the meme token will increase in value and any price volatility is the responsibility of the purchaser. Caution is to be used when purchasing SKIPPY meme tokens.
Images sourced from screenshots I took and supplemented by CANVA Pro Subscription. This is not financial advice and readers are urged to undertake their own research or seek professional financial services